Headlines!


3-25-03
Finis Coronat Opus
3-23-03
Cartoons of the Day
3-17-03
Oscar Pool & Rice-Mates
3-13-03
Crossroads of Twilight
3-8-03
Unreal II & Prospects of War
2-28-03
Mr. Roger's Neighborhood
2-16-03
Shanghai Knights
2-14-03
Song of the Week
2-2-03
Space Shuttle Columbia
1-27-03
Links & Sweepstakes Results
---
Rice's Crash Ticker
(Since 2-7-01):
13
Last Recorded Crash:
3-20-03
---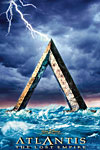 ATLANTIS: THE LOST EMPIRE
Starring: Michael J. Fox as Milo
Directed by: Some Disney goons...
Distributed by: Walt Disney Pictures
Date: 7/15/01
By: Leo Chan
Has anyone heard of the El Capitan Theater? First of all, it only shows one movie in the theater. Secondly, it costs $13 for a ticket in general sitting. (You can only sit at assigned zone) Or dish out $9 more bucks (total $22 bucks) to have a VIP seat. (Which gives you popcorn and a drink) It sounds outrageous doesn't it? Well, it's for real. You see, it's a Disney themed theater. The only movies they show there are Disney's. In addition, right next to the theater is a building designed for the movies. For example, when I went to watch Atlantis, the building was transformed into a showroom for the movie. They have an aquarium, a game room, a laser tag room, and a room that holds memorabilia for all the characters in the movies. It isn't that big, but it is a different Disney experience.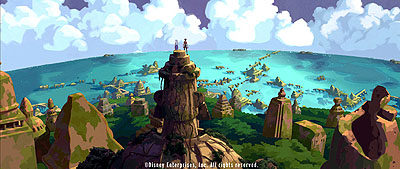 Welcome to Atlantis: The Lost Empire.
Even the theater is a bit unique. Before the movie starts, an orchestra (in our case, an organ player) plays some music. My brother said that sometimes they have shows on the stage before the movie starts. There was only two previews. Of course they were Disney flicks. And the movie is play on a true wide screen. They show the previews normally and then close and reopen the curtain to reveal a large and wide screen. The quality was extremely clear too. The movie shown at the theater looks extremely clear. Not something you would expect when you see the size of the screen. All in all, it was a nice place to visit. As a cheapskate and a non-Disney fan, I don't think it was worth it. But for those of you who are, or at least are interested, it is worth at least one trip. So check it out online at www.elcapitantickets.com.
With that done, let's get back to the movie. I know it's been so long and it's about to go off the theater. Sorry about that, but writer's block along with my lazy bone is a really bad combination. Anyway, Atlantis: The Lost Empire deals with the legendary city of Atlantis, an advanced civilization that disappeared from the face of the world. The main character is Milo Thatch, voice of Michael J. Fox, who is the grandson of the explorer of Atlantis, but died. When Milo got older, he tried to get the museum to fund his search for Atlantis, but no one believes him. A man name Preston Whitmore, a friend of Milo's grandfather, lost a bet and agreed to fund the expedition. Whitman prepared the crew for the expedition for Atlantis and asked Milo to go along. And so the journey begins.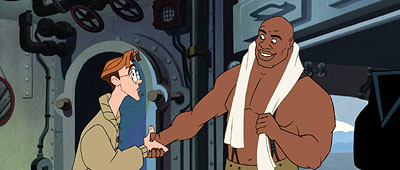 Big black dude meets shrimpy skinny dude.
The crew's main job in this movie is just to give feeling, support, and humor. None of the supporting crew got to do much in the movie. Everyone get's one or two scenes to do something. I think there were too many characters, but Disney used them pretty well. You get a feel of how each character is like and let you know that they all have a purpose. Even with the fun characters, the story was a bit off. The search for Atlantis made sense. The trouble of finding Atlantis made sense. The problem and solution for Altantis didn't make sense. What I mean is that the story about the troubled Atlantis was a bit unreasonable. The problem is that it doesn't connect too well. An advanced civilization losing to a gang of mercenaries? I don't want to spill too much information so go and find out for yourself.
Atlantis: The Lost Empire has the basic elements of a Disney movie. The three basic elements are a hero, a princess who needs help, and a villain. But unlike a perfect fairy tale of the older Disney movies, Atlantis was more of a true adventure movie than a romance fairy tale. There wasn't any long sappy love story (there's still the hero and princess, but they didn't get to explore it too much). It has good animations and a fun factor, but the story was a bit off. For the babe rating, well, I don't know if this should apply to this movie. They're just drawing people, afterall. =P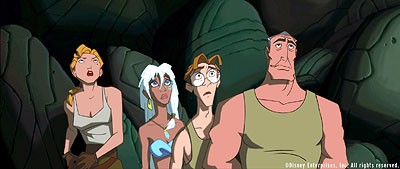 Interesting Fact: People seldom look up.
Grade: B+
-- First, Emperor's New Groove... now, Atlantis? What's gotten into Disney and making good movies?
Babe-o-meter: N/A
-- You know the rules. No babes, no grade.
---
Readers' Comments:


Fatal error: Allowed memory size of 33554432 bytes exhausted (tried to allocate 19922944 bytes) in /home/ricedawg/www/riceworld/reviews_movies/Atlantis/talkback.txt.htm on line 4523