Headlines!


3-25-03
Finis Coronat Opus
3-23-03
Cartoons of the Day
3-17-03
Oscar Pool & Rice-Mates
3-13-03
Crossroads of Twilight
3-8-03
Unreal II & Prospects of War
2-28-03
Mr. Roger's Neighborhood
2-16-03
Shanghai Knights
2-14-03
Song of the Week
2-2-03
Space Shuttle Columbia
1-27-03
Links & Sweepstakes Results
---
Rice's Crash Ticker
(Since 2-7-01):
13
Last Recorded Crash:
3-20-03
---

Archives




Space Shuttle Columbia
[ 2-2-03 ][ 7:15 p.m. pst ][ By Rice ]

I'm feeling a bit guilty, and a bit annoyed that I'm experiencing this guilt. When I read the news of Space Shuttle Columbia exploding into kibbles and bits, I felt... nothing. I watched the video of the shuttle re-entering Earth in shards and I felt... nothing.

This is a stark contrast to when I heard the news on 9-11. My head started to spin and I nearly hit a wall with my car. But yesterday all the coverage on Columbia just washed over me emotionlessly. I think about the astronauts that perished, and how their families must feel, and somewhere dimly in my head I can note sympathy and sadness. Somewhere, dimly. The rest of me mechanically took in the news without blinking twice.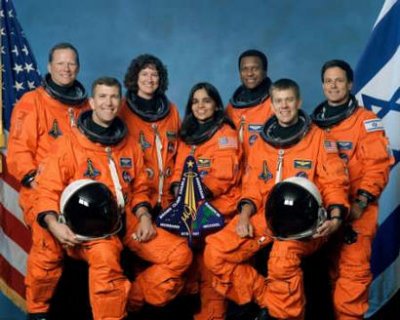 I'm leaving... on a jet plane... don't know when I'll
be back again.
That's why I'm feeling guilty now--because of my lack of emotions towards this ordeal. It seems to be big news. I can't go to two webpages without seeing someone mentioning it. The evening news is littered with hypothesis and condolences.
But dammit all to bloody heck, I can't conjure up any flaming emotions. Am I just numb, or am I a cold blooded rat bastard? Am I so used to death and tragedy now? Am I that jaded already? If I am, I don't want to be.
---