Headlines!


3-25-03
Finis Coronat Opus
3-23-03
Cartoons of the Day
3-17-03
Oscar Pool & Rice-Mates
3-13-03
Crossroads of Twilight
3-8-03
Unreal II & Prospects of War
2-28-03
Mr. Roger's Neighborhood
2-16-03
Shanghai Knights
2-14-03
Song of the Week
2-2-03
Space Shuttle Columbia
1-27-03
Links & Sweepstakes Results
---
Rice's Crash Ticker
(Since 2-7-01):
13
Last Recorded Crash:
3-20-03
---

Archives




Shanghai Knights
[ 2-16-03 ][ 3:24 a.m. pst ][ By Rice ]

My take on Shanghai Knights: Entertaining. Owen Wilson can read the obituary and be hilarious. It's obvious Jackie Chan's lost a step or two, but to regular people, that's still moving like Flash Gordon. The two fight scenes in the end make that plain. Fann Wong's no Zhang Ziyi, but she can hold her own. There's one fantasy-dream sequence that left my mouth gaping and tongue dry.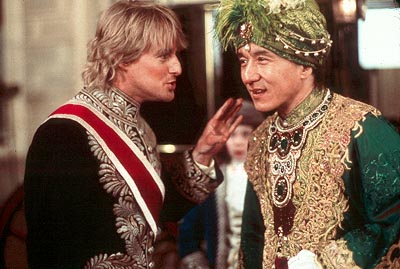 Sherlock Holmes & the Maha Rajah of Nevada.
There's no plot worth mentioning. Watch SK purely for its schticks, and you'll be wheezing with laughter by the time the credits roll. Not before the requisite Jackie Chan outtakes, though. They're better than ever. The Shanghai flicks are essentially the Rush Hour flicks set in the 19th century.
...
Back with a Dare Devil blurb next weekend, maybe.
---