Headlines!


3-25-03
Finis Coronat Opus
3-23-03
Cartoons of the Day
3-17-03
Oscar Pool & Rice-Mates
3-13-03
Crossroads of Twilight
3-8-03
Unreal II & Prospects of War
2-28-03
Mr. Roger's Neighborhood
2-16-03
Shanghai Knights
2-14-03
Song of the Week
2-2-03
Space Shuttle Columbia
1-27-03
Links & Sweepstakes Results
---
Rice's Crash Ticker
(Since 2-7-01):
13
Last Recorded Crash:
3-20-03
---

Archives




Mr. Roger's Neighborhood
[ 2-28-03 ][ 11:37 p.m. pst ][ By Rice ]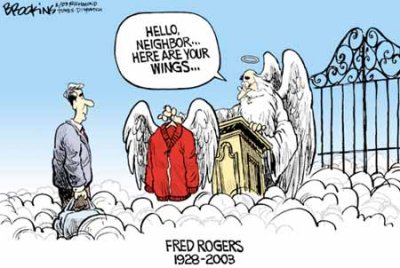 I remember, around fifteen years ago, watching Mr. Roger's Neighborhood regularly afterschool on PBS. Even to this day, I still see it as the quintissential children's program--offering simple lessons in life that no Barney or Teletubbies will ever replace. Although Fred Rogers, an ordained Christian minister, passed away at a relatively young age of 74, I don't feel sad. On the contrary, I am happy for him. You see, Mr. Roger is home now, in Paradise, where every day is a wonderful day in the neighborhood.
---